BIKES VS. CARS – DIE DOKUMENTATION
Was für ein Titel: Bikes vs. Cars. Großer Fight, harte Gegner. Man landet gedanklich schnell bei den üblichen Begriffen, mit denen sich Autolobby und Radaktivisten behaken. Die Schicke Mütze lädt MORGEN dazu ins Kino ein!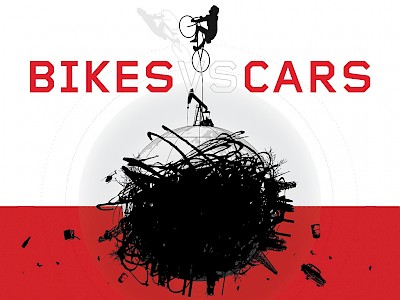 Kampfradler vs. The Fast & the Furious. Ein Kampf ohne Sinn, wahrscheinlich auch ohne Gewinner. Doch hier geht es um einen ganz anderen Film – sachlich, leise, bewegend. Ein Film über Straßenverkehr in Städten. In all seiner Vielfalt, von den Radaktivisten in Sao Paulo bis zum Taxifahrer in Kopenhagen. Probleme, Ideen und Lösungen. Von beiden Seiten für beide Seiten.
Bikes vs. Cars. läuft am Mittwoch, den 9. Dezember 2015, um 19:00 Uhr im Metropol Kino, Brunnenstraße 20, 40223 Düsseldorf. Eintritt 8€, mit Gildepass 6€.
Nach dem Film bittet die Schicke Mütze einige eingeladene Gäste mit Bezug zu den Themen Verkehr und Stadtplanung zu einer Gesprächsrunde auf die Bühne, um über den Film, über den Verkehr jetzt und in nächster Zukunft zu sprechen. Geleitet wird die Diskussionsrunde von Jan Gathmann vom Radtouren-Magazin und bisher bestätigte Teilnehmer der Gesprächsrunde sind:
Dr. Stephan Keller, Beigeordneter für Ordnung, Recht und Verkehr, u.a. Dezernent für Verkehrsmanagement,
Prof. Thomas Fenner, Professor Architektur an der FH Düsseldorf, Geschäftsführender Partner FSWLA, u.a. Kö-Bogen 2
Norbert Czerwinski, Mitglied im Ausschuss für Planung und Stadtentwicklung, verkehrspolitischer Sprecher der Grünen,
Dr. Roman Suthold, Leiter Verkehr und Umwelt, ADAC Nordrhein e.V.
Lerke Tyra, Stv. Vorsitzende Allgemeiner Deutscher Fahrrad-Club Düsseldorf e.V.

Warning: count(): Parameter must be an array or an object that implements Countable in /www/htdocs/v133155/spokemag/site/assets/cache/FileCompiler/site/templates/article.php on line 59


Warning

: A non-numeric value encountered in

/www/htdocs/v133155/spokemag/site/assets/cache/FileCompiler/site/templates/related.inc

on line

4
Ähnliche Artikel